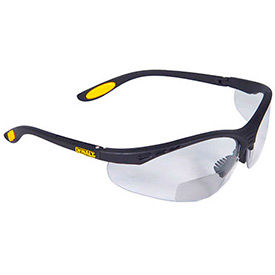 DeWalt® - Safety Reader Eyewear
DeWalt® - Safety Reader Eyewear Provides Ocular Safety and Protection for Construction Sites, Manufacturing Plants, Medical Facilities, and more.

These glasses provide high impact vision safety and protection for dust, debris, UV rays, and more. The molded-in magnifying diopters improve work detail visibility for intricate job tasks. The durable eyewear is made of plastic, rubber, and polycarbonate making it ideal for harsh working conditions. Diopter strength ranges from +1 to +3. Frame color is Black. Lens colors are Clear and Smoke. ANSI approved. Dimensions vary per model.