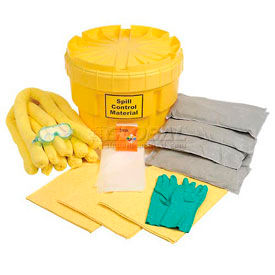 Universal Spill Response Cleanup Kits
Universal Spill Response Cleanup Kits Support Spill Maintenance For Medical, Waste Management, Janitorial, and Other Related Applications.

These cleanup kits are designed to safely handle, contain, and dispose of hazardous and non-hazardous materials including oil, water, solvents, acids, and more. Kits are made of various high quality materials for lasting strength and dependability. Select models include drum pails, socks, pads, pillows, and more. Available types are Aggressive, Spill Kit, and more. Gallon kits, capacities, and dimensions vary per model.