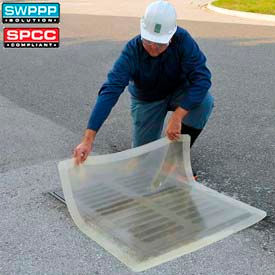 Clear Ultra-Drain Seals®
Clear Ultra-Drain Seals® Provides Unobstructed View of Covered Drains.

Clear Ultra-Drain Seals® are made for long lasting durability and dependability. Reinforcing mesh is ""sandwiched"" between layers of polyurethane increasing resistance to tearing. Unique urethane construction allows the pad to deform and seal off most drains and temporarily seals to any smooth surface. Allows for quick view of whether spills are entering the drain through cracks in the surface, imperfections in the grating or other irregularities that can break the seal. Easily cuts to custom shapes and sizes and cleans with soap and water. Helps comply with SPCC and NPDES. Available in 12, 20, 30, and 42 inch diameter circular units, 18, 24, 36, 42, 48 and 54 inch square units and 58 x 18 inch and 58 x 36 inch rectangular units.