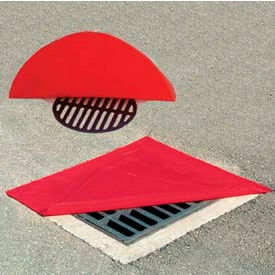 Drain Covers and Protectors
Drain Covers And Protectors Are Used Safety And Spill Control Supplies That Prevent Spills From Entering Drainage Systems.

Drain Covers And Protectors are made of durable, lightweight Novathene or Polyurethane materials for secure, dependable and reliable use. Various Circular or Square shaped covers designed to be easily deployed to prevent harmful chemicals from entering drainage systems. entrance recognized brands offer granulate, environmentally safe formulas designed to safely absorb or neutralize odors caused by fuel, chemical and other commercial or industrial spills. Available in 12, 20, 30 and 42 inch diameter and 18, 24, 36 and 48 inch square width and length sizes and visually vibrant Red or Orange colors.