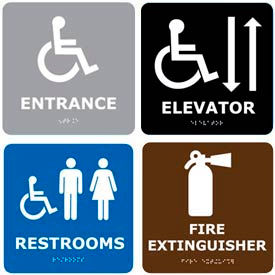 Graphic Braille Signs
Graphic Braille Signs Aid The Visually Impaired For Hospitals, Commercial Properties, Public Property, and more.
Graphic braille signs are designed to permanently mark rooms and areas for the visually impaired. Styrene plastic graphics are easy to read for improved visibility. Braille dots meet ADA specifications. Colors vary per model.
Styrene plastic graphics
PVC construction
Available styles are Access Ramp, Entrance, Fire Extinguisher, and more