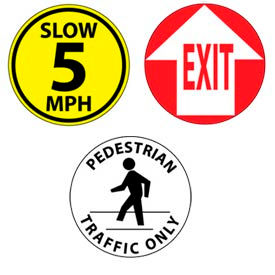 Walk-On Facility Floor Signs
Walk-on Facility Floor Signs Point the Way to Important Safety Protocols.

Walk-on facility floor signs feature pressure sensitive vinyl that is protected with anti-skid tread laminate to keep signs from being damaged, bent or stained while on the floor. Permanent adhesive backing is scored for fast peel-off and application. Large text and graphics convey messages even from a distance. Dimensions vary per model.