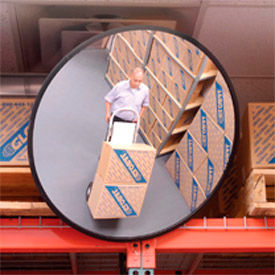 Convex Safety Mirrors
Safety Mirrors Help Avoid Potential Injuries and Discourage Theft.

Observation mirrors provide a superior 160° wide angle range of vision with a full overhead view. Convex safety mirrors offer protection against intersection accidents in blind corners and between aisles. Wide angle mirrors are great in loading areas, hospitals, retail stores, markets, warehouses and more. Safety mirrors feature a ball swivel bracket mount that adjusts to desired angle. Choose between Indoor or Outdoor styles. Available in impact resistant and shatter proof Acrylic or easy care Glass. Glass Indoor Mirrors have hardboard backing with vinyl rims. Outdoor Mirrors have a weatherproof frame. Glass Outdoor Mirrors feature a rubber rim with tempered hardboard backing for weather proofing.

26" & 36" Glass Mirrors & 36 Acrylic Mirrors include 3 mounting brackets for various applications including ceiling suspension, counter top use or wall applications. All Other Mirrors include a telescoping swing-action arm.