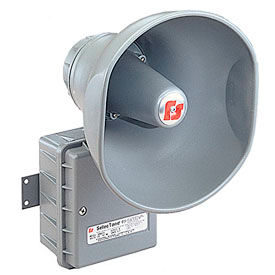 Selectone® Audible Signaling Devices
Selectone® Audible Signaling Device Is Designed To Produce Crisp, Clear Tones, Digital Voice Messages And Live Public Messages.
The compact size and attractive appearance of this audio signal make it used for use in office, hallways, reception and plant areas. Short, folded re-entrant horn is interposed between the diaphragm and surrounding air space. Provides maximum dB output and very good frequency response. Internal gain control allows output adjustment from 64 dBa to a maximum of 88 dBa at 10 feet. Rugged speaker cone and projector are made of spun aluminum. Housing is constructed of die-cast aluminum. Powder coat finish. Dust and moisture proof gaskets protect device from the elements. UL listed.
5 Year Limited Warranty
When purchasing for new installations, Audible Signal Devices require
Universal Tone Module
(sold separately) for operation.