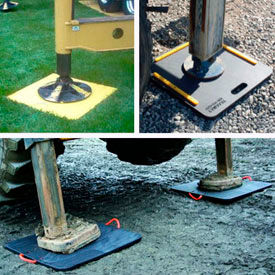 Outrigger/Crane Ground Protection Pads
Outrigger/Crane Ground Protection Pads Are Used For Applications Including Construction, Commercial, Maintenance And More.

Outrigger/crane ground protection pads are made of high quality materials for long lasting durability and corrosion resistance. Non-skid rigid surface provides superior traction for operator safety and unit stability. Lightweight design and rubber coated cable handle allows ergonomic handling and transport. Type is Medium to Heavy Duty. Style is Heavy Duty Outrigger Pads, Outrigger/Crane Pad and Outrigger/Crane Pad w/ Cutouts. Load capacities range from 25,000 to 140,000. Surface texture is Smooth. Package quantity is 1. Color finishes are Black and Yellow. Dimensions vary per model.