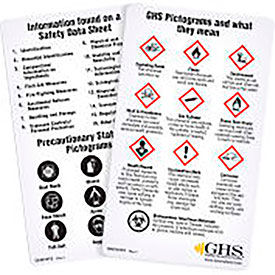 Safety Training and Reference Materials
Safety Training and Reference Materials Are Designed For Equipment and Tools In Need of Security Warning Displays.

Safety training and reference materials provide comprehensive safety guidelines and notices for sensitive equipment. Large lettering and color contrast design increases sign visibility. Available Descriptions are First Aid Prepared to Help, Right To Know Wallet Cards, and more. Available languages are English or Spanish depending on the model. Package quantities and additional specifications vary per model.