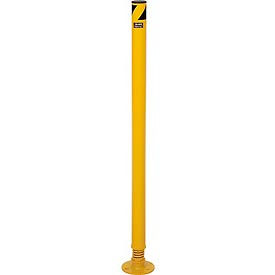 Spring Loaded Safety Steel Bollard
These Safety Bollards Feature An Innovative Spring-Loaded Design That Stops Vehicle, Bends To Absorb Impacts And Reduces Bollard Damage For Longer Life.

Steel safety bollards features spring-loaded base that allows bollard to be repeatedly contacted without damage. Safety bollard has a yellow powder coat finish for high visibility. Measures 42 H x 2-1/2 diameter. Siren/Strobe Bollard gives off a visual and audible warning when tilt sensor is triggered. Operates on two 9 volt batteries (not included). This safety bollard includes an on/off switch, an amber safety strobe lens and provides at least 100dB at 1 foot, which is audible in the noisiest environments.