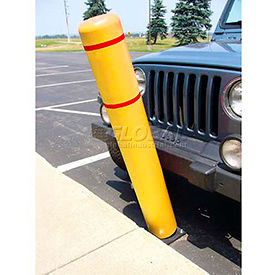 Flexible Bollard Systems With Or Without Sign Posts
Flexible Bollard Systems Are Impact Resistant Vehicle Lane Markers That Help Guide Traffic Safely In Parking Lots.

Flexible Bollard Systems allow 360° flexibility to be used in place of parking blocks and help reduce liability. Bollards delineate when hit to absorb impact and eliminate cost and damage to parking lot surface and vehicles for long lasting use. Posts are made with 7" diameter polyethylene with two strips of 3M™ reflective tape for high visibility. Base plate is 9-1/2 sq. in x 7 gauge steel for durability. Available with or without 1-5/8" diameter Galvanized Sign Post to conveniently hold traffic and parking signs. Can be installed in Asphalt, Concrete, or Natural Ground. Post and reflective strip color combinations consist of Black, Blue, Red, White, and Yellow. Includes 1 Year Limited Warranty.