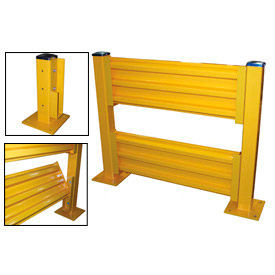 Steel Guard Rail System
Build Your Own Modular Guard Rail System With These Steel Barrier Rails And Posts For Temporary Access To Security Areas For Maintenance or Repair Purpose.

Guard rails help protect personnel, inventory and equipment from damage or injury. Guard rails and posts have a highly visible yellow powder coat finish. Barrier Rails are made with triple edge corrugated steel that is 1/8 thick and made for high impact resistance. Guard rails include hardware and 2 drop-in brackets per rail that allows rail sections to slide into post saddles for installation. Barrier Posts are made with 1/4 thick steel with rounded corners for safety. Welded base plates measure 10" sq. x 5/8" thick and are predrilled for easy installation. Choose 18"H Posts to support a single rail or 42"H Posts to support a double rail barrier system.