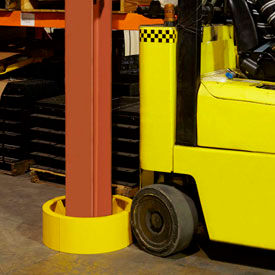 IRONguard Column Guards
IRONguard Column Guard

The columns of a facility are an integral part of the building and support the weight of the roof/structure, known as a vertical load. Impacts at the lower parts of columns reduce the capacity of the column to continue to support vertical loads, thus an impact to a column, known as a horizontal load, could create expensive repair work, down time and in the worst case a roof/building collapse. Unlike conventional column guarding methods, IRONguard's Column Guard stops the forklift, pallet truck, and other warehouse vehicles from impacting the column or transferring the impact load. While most other column protection methods employ a cushioning device that absorbs some of the impact shock, they do not prevent the impact. At 8" high and manufactured from 3/16" thick steel and 3/8" gussets high strength cold rolled steel, IRONguard's Column Guard can stop a 10,000lb forklift travelling at 3 to 4 MPH dead in it's tracks. The safety yellow power coat finish ensures high visibility. Column guards are supplied in quarters, making them flexible for adding around racking corners or getting around column obstructions.