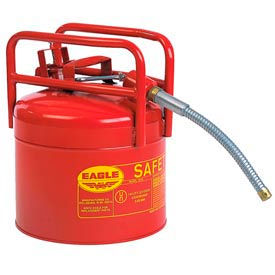 Eagle DOT Transport Safety Cans
These Eagle Transport Safety Cans Help Reduce The Danger Of Explosions While Dispensing Flammable Liquids Through A Flexible Metal Spout.

This Eagle type II safety can is made using double-walled brass flame arrestors in a filler opening and a pour spout. Heavy duty roll bars protect spouts and thumb screw mechanism to assure the filler opening stays closed when transported. 5 gallon capacity. Meets OSHA requirements and NFPA code 30. Complies with UN/DOT standards.