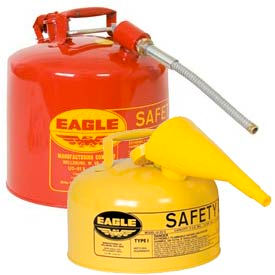 Eagle Type I & Type II Safety Cans
Eagle Type I & Type II Safety Cans Allow Safe Handling and Storage of Gasoline and Other Flammable Liquids.

Eagle type I and type II safety Cans are designed using hot dipped 24 gauge galvanized steel with lead-free technology and powder coat finish. Comfort grip release trigger for ease of use. Spring closing lid with Neoprene gasket vents offer 5 psi internal pressure. Includes non-sparking flame arrestor and pour spout. Includes tri-lingual warning label for safety. Type II Cans feature 2 openings; one with a pressure-relief spring closing lid for filling and one with an actuated pour valve and flexible metal spout for safer controlled dispensing. Filler spout and flame arrestors offer flashback protection. Meets OSHA and NFPA code 30 requirements. FM approved. Additional specifications vary per model.