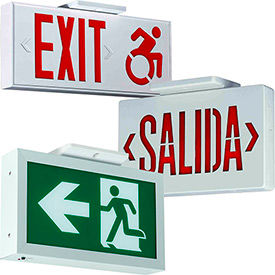 Specialty Exit Signs
The RME Series offers bright, even and highly reliable LED illumination with direction configurable "Running Man" diffuser legends. The housing is made of durable, powder coated 20 gage steel in white color. Designed for wall mount with universal KO pattern, or ceiling/end mount with canopy included.

The Compass International Exit offers quality and value with a compact and attractive LED based emergency exit. The white housing is made of high impact UL flame rated thermoplastic. Snap together canopy, housing and removable chevrons for quick and easy installation. Universal single or double-face with SALIDA panel.

The CS Series is an Exit sign, also available with the Dynamic Symbol of Accessibility. The CS Series is made of highly durable aluminum , with long-life LED's which provide bright and even EXIT illumination in AC only, or Emergency with battery to provide 90 minutes of emergency lighting in the event of power outage. The CS offers quality and value with a durable and long-lasting aluminum housing and canopy. The LED's are rated for a 10 year life-cycle. Available with the standard UL compliant EXIT lettering at 6" tall, and for areas requiring the Dynamic Accessibility Symbol with 6" EXIT.