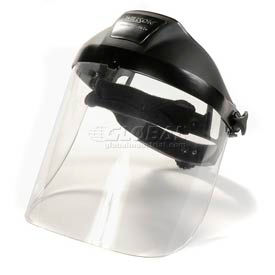 Faceshields and Headgear
Faceshields and Headgear Provide Protection Against Chemical Splashes, Welding Hazards, and Impact Dangers.

Faceshields and Headgear offers face and eye protection from particulates and other obstructions. Each model is lightweight and balanced for prolonged comfort. Design enables advanced visibility and protection against airborne debris, splash and welding infrared radiation. Most models are adjustable, with an easily replaceable visor. Ratchet Headgear is designed with a chemical splash drip edge to prevent fluids from splashing down inside the visor. Ratchet tension knob headband adjustment enables easy sizing and tension adjustment with a padded sweatband. Faceshields with combined headgear are heat resistant and feature a wide wraparound window for added safety protection. Units feature High Density Polyethylene, Polycarbonate, Thermoplastic and Other High Quality Layer materials for lasting durability and dependability. Additional specifications vary per model.