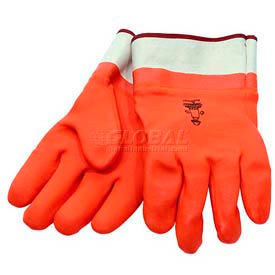 Insulated PVC Gloves
Insulated PVC Gloves Provide Hand Protection In Hazardous Or Harsh Environments.

Insulated PVC Gloves are made of durable, waterproof and chemical resistant coated material for secure protection and reliability in environmentally hazardous or harsh environments. Bright orange double dipped sandpaper finish for improved grip. Heavy Jersey Foam Lining provides additional protection from extreme temperatures. 10, 12 or 14 Inch Gauntlet Cuff, Safety Cuff and Knit Wrist types are available in 36 pair per package. Insulated PVC Gloves of durable vinyl with safety cuffs are also available in 12 pair per package quantity.