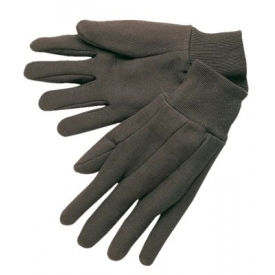 Cotton Jersey Gloves
Cotton Jersey Gloves Are Used For General And Light Duty Commercial Or Industrial Hand Protection Applications.

Cotton Jersey Gloves are made for long lasting comfort, durability and dependability. Various Knit-Wrist or Slip-On cuff type gloves are available for general purpose or light abrasion applications. May be used independently or as inner liner for heavier material or leather gloves. Available in clute, clute-straight thumb or gunn pattern styles, Brown or Natural color and One Size, Men's, Large or Small size groupings.