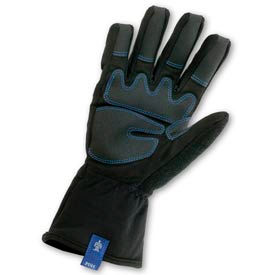 ProFlex® Thermal Gloves
ProFlex® Thermal Gloves Are Used For Construction Sites, Factories, Outdoor Landscaping And More.

Gloves are made for superior protection against cold weather. Thermal Utility Gloves are made using Thinsulate™ insulation and double-reinforced Amara palm. Padded spandex back and neoprene knuckle pad provide added comfort. Low-profile enclosure with woven elastic cuff. Thermal Waterproof Utility Gloves are made with a gripping PVC palm and soft spandex cinch cuff. Thinsulate™ insulation provides added protection. Features Hipora® breathable water and windproof liner. Thermal Waterproof Dorsal Impact Gloves are made with a 5mm EVA dorsal pad, as well as palm and ulnar padding to protect hands from impacts or pinch injuries. Thermal Cut Resistant GlovesAre made with Next-gen Armortex® for extreme cut protection. Thermal Flip-Top Gloves easily convert between mittens and fingerless gloves for easy detail work in cold temperatures. Gloves are available in sizes ranging from S to 2XL.