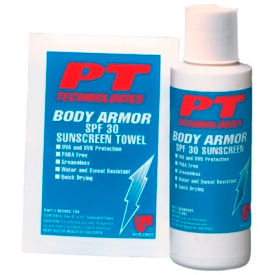 Insect Repellent And Sunscreens
Insect Repellent And Sunscreens Protect Outdoor Workers From Insect Bites And Harmful UV Rays.

Insect repellent and sunscreens are available multiple varieties. Double Strength Insect Repellent uses a double strength formula to repel up to twice as long as other consumer insect repellents. Sold in 8oz. aerosol cans. Insect Shield™ Insect Repellent Towels are a safe yet highly effective repellant wipe, with waterproof and greaseless formula. Solar Guard™ Sunscreen Towels are lint-free towels with sunscreen formula with SPF 30+ for sensitive skin. Sun Skeeter™ Insect Repellent + Sunscreen Towel provides double duty action , SPF 25 UVA/UVB and long lasting protection against disease-carrying insects. All repellent and sunscreen towels are sold in quantities of 100 packets.