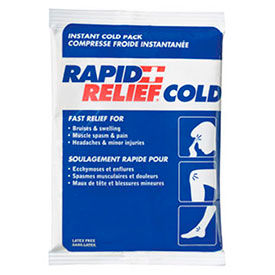 Instant Cold & Hot Packs
Instant Cold Pack Is Used For Applications Including Medical, Athletic, Physical Therapy And More.

Instant cold pack is made of high quality materials for long lasting durability and dependability. Packs are used for sprains, dislocations, tension relief, bruising, minor burns and more. Units reach 0°C (32°F) within seconds and remain below 5°C (41°F) for up to 10 minutes. Double bag construction improves product quality and increases shelf life. Model is Instant Cold Pack. Style is Small. Package quantity is 1. Dimensions are 5.98"L x 4.02"W.