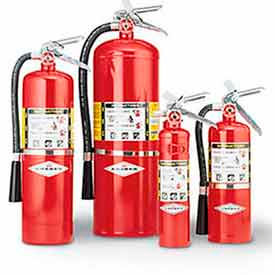 Amerex Fire Extinguisher
Amerex Fire Extinguishers Are Suitable For Most Office, Commercial Or Residential Fires Involving Wood, Paper, Liquids And Electronic Combustibles.

Amerex Fire Extinguishers feature monoammonium phosphate dry chemical material to effectively put out small fires. Steel cylinder with polyester epoxy finish provides lasting durability. Aluminum valve is non conductive for safe use on electrical fires. Easy to read pressure gauges provide quick status checks. 2-1/2 -lb., 5-lb., 10-lb. and 20-lb. capacity fire extinguishers listed.