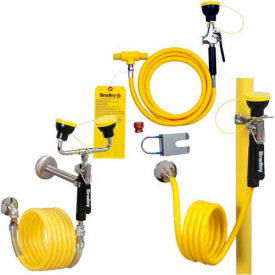 Bradley Drench Hoses
Bradley Drench Hoses Are Designed For Face Spraying and Eye-Only Rinse Applications.

Bradley drench hoses are suitable for warehouses and other facilities. Wall-Mounted Hand-Held Hose Spray includes wall bracket. Bradley Deck-Mounted Hand-Held Hose Spray with counter-top mounting allows for easy accessibility. Bradley Eyewash Hand-Held Hose Spay Retrofit Kit easily attaches to any Bradley eyewash fixture. Eyewash sold separately. Bradley Eyewash, Dual Head, Wall Mount with chrome-plated valve stays open when handle is squeezed. Retrofit drench hose kit compatible with any Bradley® wall/pedestal eyewash or combination unit. Most models comply with ANSI Standard Z358.1-2009. ABS plastic and other high quality materials provide lasting performance and durability. Available types are Drench Hose, Eye Wash/Drench Hose Unit and Hand-Held Hose Spray. PSI range is 30 – 450 depending on the model. Limited Warranty and additional specifications vary per model.