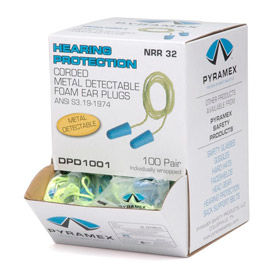 Metal Detectable Ear Plugs
Metal Detectable Ear Plugs are used in Food Processing and other Contamination-Sensitive Operations.

Metal Detectable Ear plugs have implanted stainless steel ball bearings or metal grommets recognized by most metal detectors to avoid possible contamination during food or product processing operations. Cords keep ear plugs within easy reach and help ensure retention. Soft foam contoured plugs give wearer a comfortable fit. Various corded styles and brands available. Noise reduction rates are 23dB, 25dB, 32dB, and 33dB. Colors are blue, orange/blue, and yellow. Sold in case quantities of 100 or 200 pairs.