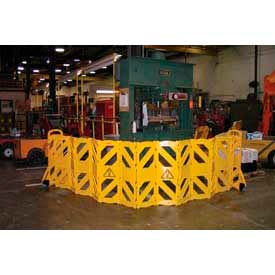 Extendable Mobile Safety Barriers
Extendable Safety Barriers Are Easy-To-Use For Any Indoor Barrier Application.

Safety Barriers are made of plastic for long lasting durability. Used for indoor applications to limit access to work areas or off limit environments. Barriers are highly visible yellow. ANSI and OSHA compliant. Extendable Mobile Safety Barriers is made using articulating panels that allow straight, curved and circular configurations. Four locking straps keep barrier closed when not in use. Includes two 5 " diameter non-marring wheels to provide easy Tilt and roll portability. Top includes comfortable molded hand grips to provide user comfort and ease. Extends to 138" or 157" when opened. Folding Plastic Barricades choose a 2 or 3 panel barricade. High impact polyethylene is bright yellow with graphics molded in permanently. Extends 74" or 111". Minders, the 'Little Yellow Man' is a bright and friendly way to inform your customers of any cleaning or maintenance work. Can be linked with other Minders or AddGards Folding Plastic Barricade. Choose with or without stand.