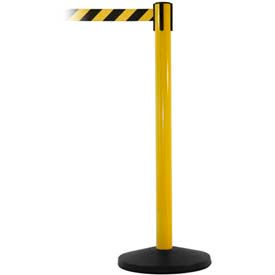 Safety Retracting Belt Barriers
Safety Retracting Belt Barriers Prevent Unauthorized Access to Restricted Areas for Safety and Security for Commercial, Construction And Industrial Applications.

Safety Retracting Belt Barriers are made of high quality materials for long lasting durability and dependability. Barriers. Self-retracting belt allows temporary access, prevents unraveling, and stores conveniently. Assembles easily. Belt types include retractable Belt Safety Stanchion, WeatherMaster Retracting Belt, WeatherMaster Twin Retracting Belt Barrier, and WeatherMaster Xtra Belt Barrier. Belt lengths are 7-1/2, 11 and 16 feet. Post colors are Black, Orange, Red, and Yellow. Belt colors are Black, Black/White, Blue, Dark Blue, Dark Green, Dark Grey, Fluorescent Orange, Fluorescent Yellow, and more. Dimensions vary per model.