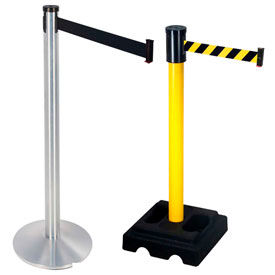 Visiontron Retractable Belt Stanchions
Visiontron Retractable Belt Stanchions Provide Crowd Control for Added Safety and Security.

Visiontron Retractable Belt Stanchions have a 100% recycled rubber base made from recycled car tires for virtual indestructiblility and long lasting durability. High impact polycarbonate material performs well in harsh outdoor environments. Base connection allows for easy and repeatable assembly of the post without wearing out components, and includes carrying handle for easy transport and compact storage. Rust-proof and UV resistant materials provide extended outdoor use. Printed belts provide a clear warning against hazardous areas. Styles include Removable Post, Single Line Post, single Line Post Receiver, Stand Mount Barrier Post, Stand Mount receiver, Utility Post and Utility Post Receiver. Available post colors include Black, Polished, Red, Satin, White and Yellow. Belt colors include Black, Black/White, Black/Yellow, Blue, Magenta/Yellow, Red, Red/White and Yellow. Available with 1 or 2 belts. Base styles are Sloped, Sloped Heavy Base w/Wheels or No Base.