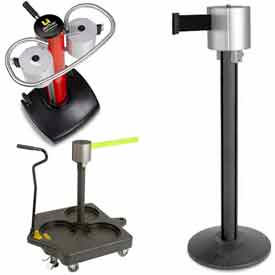 Lavi Industries JetTrac Stanchions
Lavi Industries JetTrac Stanchions And Shuttle Transport Carts Are Used For Providing Versatile Crowd Management Solutions.

Lavi Industries JetTrac Stanchions And Shuttle Transport Carts are solidly made for long lasting durability and dependability. JetTrac Satellite and Receiver Posts come in Wrinkle Black finishes with 14 inch diameter base size, 41 inch height and Black or Florescent Yellow retractable S-Hook, J-Hook or Standard belts. Fit into the JetTrac Shuttle for easy deployment and storage. 41 inch height Dual stanchions feature swiveling dual belt housings that allow belts to extend in any direction. Heavy-duty design stands upright even in windy conditions. Compact design takes up little storage space. Available in Yellow, Black or Red post colors and 23 x 20 inch base size. JetTrac Shuttle Transport Carts store and transport up to three JetTrac Satellite or Receiver posts. Locking rubber wheels for added security. Convenient storage in tight areas. One person can quickly deploy a large area. Multiple carts may be linked together with Connector Rod. Easy pull handle. Available with Black or Florescent Yellow colored retractable belt on fixed 41 inch height center post. Bases measure 32 x 41 inches in size on sturdy, mobile casters.