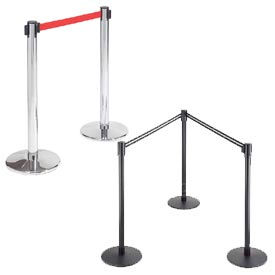 Adjustable Length Crowd Control Barrier
These Attractive Crowd Control Barriers Feature Rugged Construction And Innovative Safety Features.

These stanchions feature a SlowRetract™ mechanism that ensures the barrier tape retracts slowly and safely without dangerous snap back. Crowd control stanchions have locking belt receivers to prevent accidental tape release. Nylon belt has fine weaving that prevents fraying and puckering. Grommet ends protect from raveling. These pedestrian safety barriers comply with ADA/UFAS regulation 4.4.1. Limited Lifetime Warranty.

Steel Post Barriers feature a heavy weighted base with rubberized floor protector. Measures 38"H and weights 26 lbs. Choose from Single Belt or Double Belt Stanchions that deter line ducking and cutting under barrier. All posts include 3 belt receivers. Shipped assembled.
Wall Mount attaches to wall and contains one 7-1/2'L retractable belt.
Wall Mount Receiver includes a locking belt receiver that connects tape ends to a wall and prevents accidental release.

Accessories are available to customize your crowd control barrier.