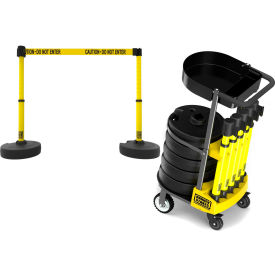 Banner Stakes Cart Barriers
BLOW OUT BANNER STAKES STANDARD CART PACKAGE SALE
Save 20% On Select Banner Stakes Standard Cart Package. Limited Time Promotion - While Supplies Last. Our Price Reflects Discount Savings.

Banner Stakes Cart Barriers Provide a Portable and Reusable Barricade for External Applications Including Commercial, Industrial, Security, and more.

Banner stakes cart barriers are made of high quality materials for strength and durability. Units prevent access and convey crowd control warnings to enhance safety, eliminate confusion, reduce liability, and increase productivity. Hook and loop tie down secure base for tip and fall prevention. Foot lock brake prevents motion, stabilizing cart when left unattended. Includes stakes, bases, retractable belts, and more. Features swivel casters for ergonomic mobility and maneuverability. No assembly required. Series options are PLUS and Standard. Messages are Authorized Personnel Only, Caution, Caution - Cuidado, Caution Do Not Enter, Cleaning in Progress, Closed for Maintenance, Danger - Biohazard, Danger - Forklift Traffic, and more. Colors are Orange, Red, Red/White, Yellow, and Yellow Black. Banner lengths are 12' and 15'.