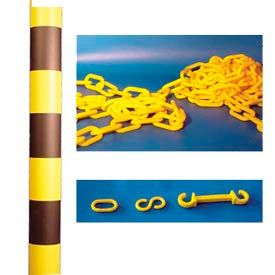 Facility Warning Posts
Facility Warning Posts With Base, Ball Top And C-Hooks For Chain Placement.

Facility Warning Posts measure 41"H x 3" diameter. Base is hollow, but can be filled with sand, gravel or water for added weight and stability. Sold 4 per case. Plastic Chains are hung between posts to create temporary barriers. Chains are made from lightweight polyethylene. Designed to prevent chain kinking. Chain links are available in 1-1/2 " and 2" sizes . Sold in 100 foot chains. Connecting Hooks are used to attach two chains without a post. S-Hooks and C-Hooks attach and detach easily. Connecting Links provide a more permanent connection. Sign Adapters turn warning posts into sign holders. Adapter fits into the top of warning posts and accommodates signs up to 3/16" thick. Adapter measures 1" x 5-1/2 "