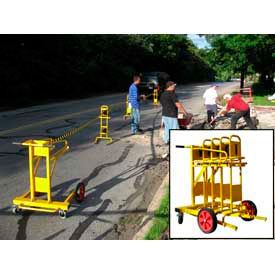 Advanced Pedestrian Guidance
Portable Guidance Systems Quickly And Safely Control Pedestrian Or Vehicular Traffic.

Portable Guidance Systems are solidly manufactured for long lasting durability and dependability. Pedestrian Control Barrier/Mobile Caddy System is used for use in airports, construction sites or for other traffic relocation applications. Sturdy yellow powder coated steel frame trolley has comfort grip handles, 2 large diameter chemical resistant, roller bearing rubber wheels and 2 locking swivel casters for easy mobility. Holds four caddy posts with retracting yellow and black diagonally striped belts that can be easily maneuvered into position and extend barrier up to 105 feet. Compact and easy to store. Offers quick and easy set-up or break down in less than a minute. Passenger Guidance System is used for boarding and disembarking applications on airport terminals, tarmacs or hazardous under-wing areas. Features retractable webbing with a hand wound mechanism that allows easy deployment to up to 75 feet. Webbing is anti static, enabling the system to be used in proximity of the fuelling zone of an aircraft. Unit is positioned in place and then extended in two directions and attached onto the stairs of the aircraft or other stationary object using a plastic connector to form a high visibility guidance barrier.