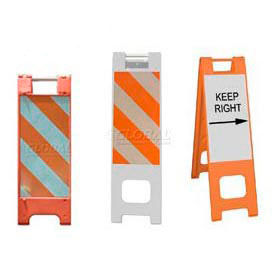 Traffic Barricades and Sign Stands
Traffic Barricades And Sign Stands Are Used For Applications Including Construction, Roadwork, Emergency Services, And More.

Traffic barricades and sign stands are made of high quality materials for long lasting durability and corrosion resistance. Stands deter traffic from hazardous roads and conditions including accidents, breakdowns, maintenance, and more. Compact design accommodates indoor and outdoor environments such as hallways, driveways, sidewalks, and more. Folding feature allows stacking, maximizing vertical storage while reducing footprint. Integrated brackets accept optional flashing lights (sold separately). Optional features include sandbag bar for added stability and reflective striped sheets for high visibility. Type is Barricade Sign Stand. Package quantities are 1 and 2. Colors are Orange, White, White/Lime, and Yellow. NCHRP 350 compliant. Dimensions vary per model.