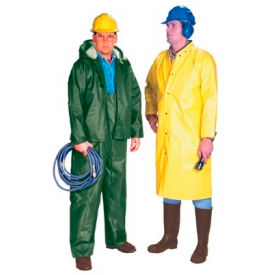 Flame Resistant Rainwear
Flame Resistant Rainwear Is Used For Outdoor Construction, Maritime Jobs, Chemical Plants And Other Industrial And Commercial Worksites.

Flame Resistant Rainwear is made of PVC, polyester, polyurethane and nylon combinations for long lasting durability and safety. Protective clothing provides layered waterproof protection against inclement weather environments. Snaps and zipper front closures available. Flame resistant to ASTM D-6413 standard. Available styles are 2-Piece or 3-Piece Flame Resistant Rainsuit, Flame Retardant Rain Jacket, Rain Coveralls, Rain Jacket and Rain Overalls. Sizes range from S to 7XL. Colors are Blue, Green and Yellow.