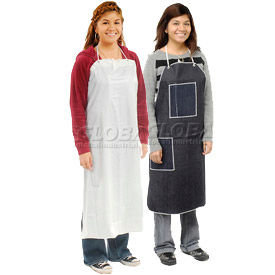 Industrial Protective Aprons
Industrial Protective Aprons Provide Clothing Protection for Carpentry, Workshops, Restaurants, and Other Related Environments.
These aprons provide protection against most acids, alkalis, oils, fats, grease, soil and moisture. Pre-shrunk denim and PVC/Polyester aprons also available. Chest pocket with pencil holder and 1 hip pocket provides easy access to tools or instruments. Cotton nylon ties have metal grommets.
Available styles are 6, 8,or 17 mil.
Apron lengths are 36", 38", and 45".
Apron widths are 28", 35", and 45".
Colors are Blue, Clear, Green, and White.
Sold in package quantities of 1 or 12