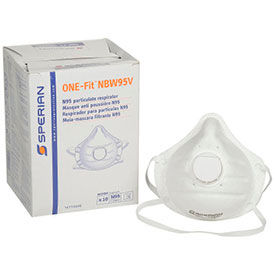 Honeywell Disposable Respirators
Honeywell Disposable Respirators Provide Air Contaminant Protection For Construction, Welding, Agricultural, and Other Related Applications.

These respirators are designed to prevent the inhalation of dangerous substances such as aluminum, zinc, and iron in grinding, sanding, and soldering environments. The two strap design secures the respirators to your face for added stability and support. The disposable, microfiber construction is lightweight for user comfort. Most models feature an exhalation valve for breathing ease. Latex-free. Package quantities are 1, 10, and 20. NIOSH approved. Dimensions vary per model.