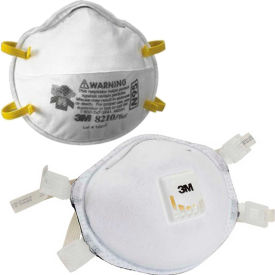 3M™ Disposable Respirators
3M™ Disposable Respirators Provide Convenient and Mobile Breathing Protection For Construction Sites, Manufacturing Plants, Warehouses, and more.

Protective respirators conform comfortably to face. Metal nosepiece helps keep it securely in place. Fiber construction provides long lasting durability and breathability in heat, humidity or long periods of wear. Cool Flow exhalation valve offers easy exhalation. Braided headband provides additional comfort and durability. Appropriate Respiratory protection for oil and non-oil containing environments. Meets NIOSH 42 CFR 84 P95. Available in several models. Sold in package quanitities ranging from 10-160.