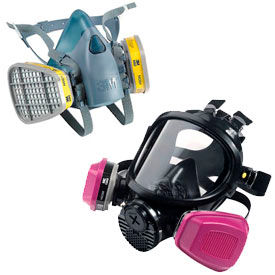 3M™ Half Mask & Full Face Respirators
3M™ Half Mask & Full Face Respirators Provide Protection Against Inhalation Of Hazardous Materials In Laboratories, Pharmaceutical, Chemical and Manufacturing Facilities.

3M Face Mask Cartridge Respirators are made of silicone or thermoplastic elastomer material for long lasting durability and dependability. Respirators protect users against various organic vapors and gases. Available styles are Full and Half Facepiece Respirators Sizes are Small, Medium, and Large. Note: Cartridges and filters are sold separately and must be selected in accordance with the recommendations of OSHA, NIOSH and the manufacturer.