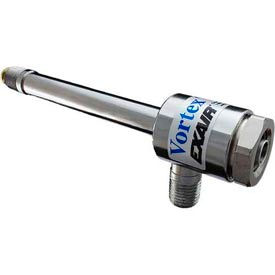 Exair Spot Cooling & Vortex Tubes
Exair Spot Cooling & Vortex Tubes Are Designed For Cooling Electronic Components, Machining Operations, Soldered Items, and more.

These vortex tubes are a low cost, reliable, and maintenance free solution to industrial spot cooling issues. The tubes create two streams of air (hot and cold) with no moving parts using a supply of compressed air as a power source. The control valve adjusts flow and refrigeration over a wide range for unit versatility. The tubes are made of stainless steel, brass, and other materials for strength and corrosion resistance. BTU/HR Max ranges from 275 to 6800. PSIs are 80 – 120, 100, and 250. CFMs range from 4 to 100. Air inlet NPTs are 1/8", 1/4", and 1/2". Male/Female thread is Female and Male.