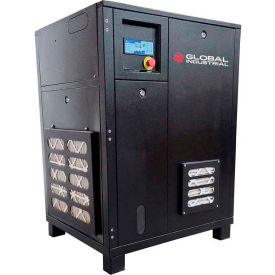 1-Phase Rotary Screw Air Compressors
EMAX® ERV0100001, 10HP Rotary Screw Compressor Tankless, 145 PSI, 45 CFM, 1PH 208/230V
Emax® Rotary Screw 10HP single phase, variable speed drive rotary screw air compressor offers a lot of functionality including a PLC that allows easy and intuitive scheduling and operation of the compressor. Equipped with state of the art screw airends and have precision-aligned back to back tapped roller bearings with close tolerances guarantee long life cycles and outstanding reliability. The air end is the most important part of your compressor, it is the heart of the machine that actually compresses the air. Emax® airends are good for 70,000 running hours as long as the unit is maintenance routinely and the correct oil is used. EMAX® Compressor Gives you a 10-year warranty on all their airends!
Features
29CFM @ 100 PSI = max 145 PSI
Single Phase Power = 208/230V Single phase, variable speed drive
Drive-Tek™ Design = Reduces energy demand up to 33%
Variable Speed Soft Start Motor = Provides reduced energy demand and amp draw on start up
Spin-Tek™ Design = Unique easy access oil filters & air/oil separators, requires no tools to remove/install saving time and money
Precision Engineered Rotary Air End = Highly efficient design provides maximum discharge
Heavy Duty Sound Attenuated Cabinet = Provides lower decibel operation than a typical rotary screw
Designed for use with stationary air receiver, not included.