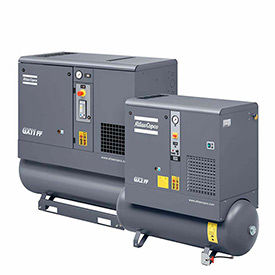 1-Phase Tank Mounted Rotary Screw Air Compressors
1-Phase Tank Mounted Rotary Screw Air Compressors Provide High Pressure Air For Various Environments Such As Industrial, Manufacturing, Automotive, and more.

The energy efficient controls are designed to reduce power consumption for cost effectiveness. The compressors reduce discharge pressure and avoid excessive pressure bands to increase downstream tool and equipment life. The full sound enclosures and rotary screw technology reduces sound levels and minimizes vibration for quiet operation. The compact design allows placement against a wall or in a corner improving the unit footprint, increasing floor space, and reducing installation costs. Service points are grouped together and accessible through a removable panel for maintenance ease. Available tank size gallons are 53, 60, 80, and 120. Horsepower options are 3, 5, and 7.5. Voltages include 200, 230, and 208-230. CFM ranges from 8.5 to 28. Dimensions vary per model.