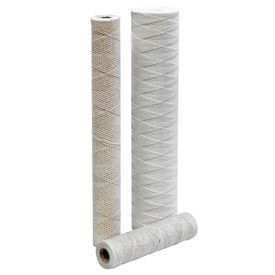 Standard 2-1/2 In. to 2-5/8 In. Diameter Sediment Replacement Filters
Standard Sediment Replacement Filters Are Used For Potable Water, Beverages, Fine Chemicals And Metal Finishing.

Standard Sediment Replacement Filters are made of string-wound industrial cotton with polypropylene core, melt-blown polypropylene, molded polyurethane or polypropylene fibers for enhanced versatility. Features specially formulated designs for superior performance. Chemical-resistant for greater reliability. Diameters are 2-3/8, 2-1/2, 2-5/8 or 2-3/4 inch. 1, 3, 5, 10, 20, 25, 30, 50 or 100 microns. Types, heights and package quantities vary per model.