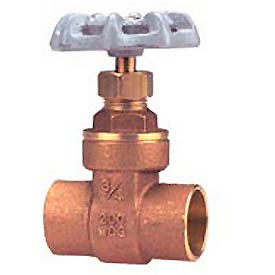 American Valve Gate Valves
Gate Valves Are Used For One-Way Flow Plumbing and Pumping Applications.

Gate Valves are made of bronze or brass for strength and long lasting durability. Designed for filling and purging hydronic and radiant heating systems. Used for use in one-way flow applications where fluid moves in straight line. Designed with full ports for maximum volume when turned on. Types are Gate and Gate w/o-Ring. Connection styles are Compression, FIP and Solder Ends. Sizes and quantities vary per type.