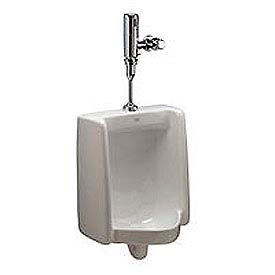 Zurn® Commercial Urinal Fixtures
Low Consumption Urinal is designed for optimal performance to save water while exceeding industry performance standards. Provides over 85% water savings over standard 1.0 GPF urinals. Urinal comes complete with sensor-operated, battery powered exposed high efficiency flushometer valve, control stop assembly and vitreous china urinal. Urinal performs with as little as 1/8th gallon per flush. Valve is operated by an infrared convergence-type proximity sensor with smart technology, powered by 4 "AA" batteries. Features 14 extended rim height for handicap compliance when installed at proper height. Toilet valve is furnished with vandal resistant chrome plated metal housing, chloramine resistant internal seals and reversible cover. Valve features an internal flow regulator to maintain constant flow rates independent of line pressures and an in-line filter to protect the valve from debris within the water. Complete with high pressure vacuum breaker, one piece hex coupling nut, adjustable tailpiece, spud coupling and flange for top spud connection. Control stop has internal siphon-gourd protection, vandal resistant stop cap, sweat solder kit, and a cast wall flange with set screw. Vitreous china urinal is supplied with 3/4" top spud, 2" outlet connection and vandal resistant outlet strainer.

Waterless Urinal is a wall hung vitreous china urinal with integral trap and drain line connection. No special tools required to maintain the trap seal. Green sealant maintains a sanitary, environmentally friendly and odor free installation. Includes two wall hanger brackets, fasteners, telescoping flange drain line connection, premeasured green sealant bottles, and drain line gasket. 14 extended rim. Measures 27 x 19 .