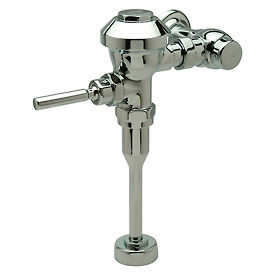 Urinal Manual Operated Flush Valves
Manual Operated Urinal Flush Valves Are Used For Installation In Commercial Or Industrial Bathrooms.

Manual Operated Urinal Flush Valves are solidly manufactured of chrome, brass and bronze casting for long lasting durability and dependability. Provide sanitary protection, automatic operation and powerful washdown flushing action. American Standard, Delany, Regal, Sloan, TOTO® and Zurn brands offer a wide selection to suit particular specification or application. Efficient designs provide low consumption flush accuracy, leak-free performance and adjustable tailpieces. Most models ADA compliant. Available with 3/4 and 1-1/4 inch spud sizes and .125 to 3-1/2 gallons per flush (GPF) capacities.