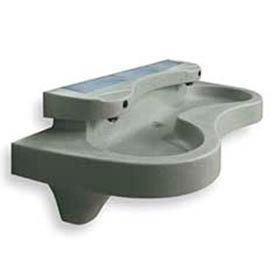 Bradley® Lavatory Systems
Bradley® Lavatory Systems Are Used For Public Restrooms In Schools, Recreation Centers, Entertainment Venues And More.

Bradley® Lavatory Systems are made using Terreon®, a highly-dense polyester resin surface material that resists impact, stains, burns and chemicals. Bowl shape features solid surface overflow to allow for greater knee clearance than other barrier-free fixtures. 1/2" NPT inlet and 1/2" drain connections. 20-80 PSI. Available in 2 Person and 3 Person configurations. ADA and TAS compliant.