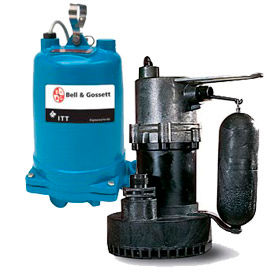 Submersible Effluent Pumps With Solid Handling Capability
Submersible Effluent Pumps with Solid Handling Capability Transfer Waste Water For Residential, Commercial, Industrial, and Other Related Applications.

Submersible effluent pumps with solid handling capability are ideal for light to medium transfer demands including dewatering, effluent waste, and gray water that must be moved from a collection area to sewer lines, septic lines, or drainage areas. Unit motors are thermally protected against overload while improving performance and energy efficiency. Submersible design is convenient for quiet operation and location proximity. Unit construction is plastic, steel, or cast iron construction materials to provide lasting durability and support. Available cord lengths are 8, 9, 10, 15, 20, 25, and 30 foot. Pumps are available in a variety of switch types, connection sizes, and voltages. Dimensions and additional specifications vary per model.