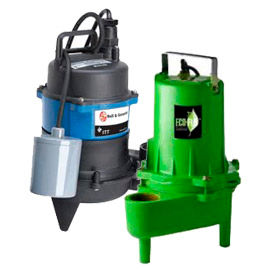 Submersible Sewage Pumps
Submersible Sewage Pumps Are Designed For Residential, Commercial, Industrial, and Municipal Wastewater Applications.

Submersible sewage pumps come in several sizes and power levels to suit a range of sewage pumping applications. Available power levels are 4/10 HP up to 1 HP, with maximum flow rates of up to 165 GPM. Available cord lengths are 8, 10, and 20 foot. Submersible sewage pumps are available in a variety of switch types, connection sizes, and voltages. Submersible sewage pumps are offered from several trusted brand names.